Hari Om Web is a Web design and Development company founded in year 2013 with IT Experts. Our strength is providing high quality work within time limits. We're available 16+ hours a day and working 7 days a week to deliver the projects on time. We're a group of highly determined, well experienced professionals who firmly believe to bring small as well individual businesses to forefront of global economy.
We're those whom you can rely upon for starting your new venture in digital arena with advance generation hosting. We've expertise in Web Design, Web Development, Web Hosting and Domain Registration. We're highly determined to take your business to a global platform where you can confidently grow with consistency.
We not only provide you with fully managed web hosting solutions but also with extensive on-site, off-site backups; both within-house and extensive third party global-monitoring locations. HariOmWeb is ONE STOP solution for all of your web needs.
HELLO! WE ARE HARIOMWEB
EXPERTISE IN WEB DEVELOPMENT & DESIGN!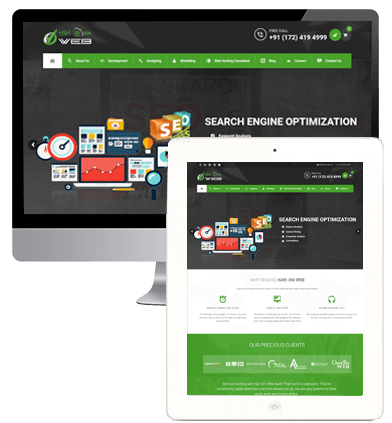 Complete Web Solution
We're one stop solution for all of your web needs. We can manage your websites/online store/apps. We'll take care of your website(s) at every step to make sure your business is always up.
HOSTING CONSULTANT
A perfect suggestion by the expert to update the business.
WEBSITE DESIGN & DEVELOPMENT
We develop websites to give you the best return on investment focuses on your business objectives and the needs of your clients. (WP Guru + Joomla Specialist)
TRUSTED & LOVED BY OVER 200+ CLIENTS
WHAT'S

THEY SAY?
The Hari Om team is outstanding- we can't speak highly enough about them. All the people are honest, work quickly, and possesses a very high work ethic. They work extremely well with our internal team and always make sure the finished website or module is exactly as we and our clients want.
We proudly reccomend the Hari Om Web Team to all who ask.

JAMES TUTTLE
CEO & Founder Distinct Web
The SEO team of Hari Om Web is well skilled, experienced and they have zeal to do their work on time with full devotion. The team helped me to get organic ranking goals for my website and Google business page by their best SEO strategy. I love working with Hari Om Web.

Hari Om Web is a team of highly professional, well focused, dedicated to work, Highly experienced developers and designers. They always think out of the box. They are always with you, until you get your work done. Doesn't matter, what timezone you're in, they are always available for you to work within your timezone if required. I'm feeling lucky to found this SUPER organisation. Highly recommended to everyone who needs the work done with great quality and get delivered within time limits.
Hari Om Web team is not an ordinary one. Their working style is really impressive and deliver their work as per their commitment. They always provide a quality based work and I am very happy to work with Hari Om Web.
I am really very impress with the working of the Hari Om Web. I am very grateful for their high quality of services and teamwork. Their team left no stone in their work.
It is very nice to work with Hari Om Web. They work in a professional way and deliver on time. I am very thankful for their great services.